It is our great pleasure to welcome you to the Virtual Conference on Infectious Diseases: Moving Forward after COVID-19 which will take place Thursday, 26th May 2022.

As we move forward through, and hopefully at some stage out of, the COVID-19 pandemic, it is perhaps time to reflect on how the landscape of infectious diseases has changed. This conference aims to advance our thinking across the wider field of infectious as we move into 2022 and beyond, and detail how we can leverage lessons learned from the pandemic to progress patient care and healthcare infrastructure.
We will bring together international leaders in the field of infectious diseases to deliver talks that are idea-focused, across five key areas:
Diagnostics
Therapeutics (both specific to COVID-19 and the wider field of antiinfectives
Infection prevention and control
Vaccinology
Policy & Public health
This Conference welcomes infectious diseases & infection control specialists, microbiology & virology diagnosticians, clinicians, pharmacists, public health experts and policy makers, and industry leaders.
We would like to invite you to share your research by submitting an abstract for e-poster presentation.
Join us as a Sponsor and benefit from maximum visibility and exposure to a broad audience.
We look forward to meeting you online at our Virtual Conference on Infectious Diseases.
Yours sincerely,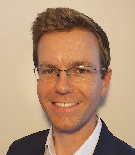 Dr. Luke Moore
Conference Chair