Dear Colleagues,
It is our great pleasure to welcome you to the Virtual Conference on Infectious Diseases: Moving Forward after COVID-19 which will take place Thursday, 26th May 2022.

As we move forward through, and hopefully at some stage out of, the COVID-19 pandemic, it is perhaps time to reflect on how the landscape of infectious diseases has changed. This conference aims to advance our thinking across the wider field of infectious as we move into 2022 and beyond, and detail how we can leverage lessons learned from the pandemic to progress patient care and healthcare infrastructure.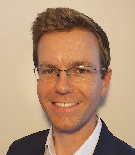 Dr. Luke Moore
Conference Chair
READ MORE
CONFERENCE FORMAT
Unique Learning Experience for Medical Professionals
SPONSORSHIP OPPORTUNITIES
View Sponsorship Opportunities
SUBMIT YOUR ABSTRACT
Abstract Submission Deadline:
01 April 2022
Contact Us
Please drop us a line with any questions or comments you may have.

We look forward to hearing from you.